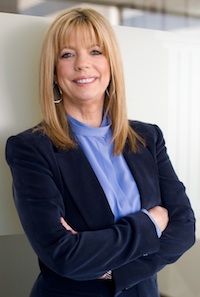 Gretchen Myers
Meet St. Louis, Missouri Attorney Gretchen Myers
U.S. News and World Report ranked The Law Offices of Gretchen Myers, P.C. as one of the BEST LAW FIRMS IN AMERICA and in 2014 the Best Lawyers in America named Gretchen Myers as ST. LOUIS LAWYER OF THE YEAR. Her results rank her in the top 1% of all lawyers in the U.S., based upon her inclusion in the Million and Multi-Million Dollar Advocacy group, and she was recently inducted into the Top 100 Lawyers Nationally.
Gretchen Myers is the founding principal of The Law Offices of Gretchen Myers, P.C. in St. Louis, Missouri where she concentrates her practice in the areas of catastrophic trucking accident cases, product liability, wrongful death, medical negligence, sexual harassment and general personal injury law. She is the recipient of two top trial advocacy awards in Missouri: the Lon O. Hocker Award from the Missouri Bar and the Honorary Order of the Barristers Award from the University of Missouri. Both awards were given for her outstanding trial work and trial excellence. She has tried cases and made numerous appearances in courts throughout Missouri and Illinois and has garnered some of the largest recoveries in the State. She is the first recipient of the "Daily Record Justice Award" given for her significant contribution to her area of expertise and her positive impact on the community. She is a frequent lecturer on civil trial techniques and advocacy skills throughout Missouri and nationwide.
Gretchen was recently chosen as President-Elect of APITLA (The Association of Plaintiff Interstate Trucking Lawyers of America), a national organization whose mission is to dramatically reduce the number of traffic accidents, injuries and deaths across America caused by unsafe trucking corporation practices. As a consequence of this selection, Gretchen will serve next year as the first woman President in that association's history. Gretchen is also the first woman trial lawyer in the United States selected to serve on APITLA's National Advisory Board. She is past President of the Missouri Association of Trial Attorneys (the first woman to have been elected by her peers to that post) and a past President of the Women Lawyers' Association of Greater St. Louis. She is an instructor at the Missouri Judicial Trial College, selected by Missouri judges to teach them about trial techniques and civil jury instructions. She was appointed to the Missouri Civil Instructions Committee (MAI) by the Missouri Supreme Court, to be the Chair of the Tort Law Committee by the President of the Missouri Bar, and to the Regional Convention and Sports Complex Authority by the late Governor Mel Carnahan. She is a member of The Missouri Association of Trial Attorneys, The Lawyers Association of St. Louis, The Bar Association of Metropolitan St. Louis, The Women Lawyers' Association of Greater St. Louis, The American Association for Justice, Public Justice and a past member of the Statewide Legal Services Board. Gretchen is licensed to practice law in three states: Missouri, Illinois and California.
Gretchen Myers graduated from the University of Missouri Columbia with a BA in Honors Economics and Political Science in 1981 and JD degree in 1984. She was a member of the Missouri Law Review and upon completion of law school was awarded a clerkship with the Honorable James H. Meredith, United States Federal District Judge for the Eastern District of Missouri. Throughout her legal career Gretchen has always been a trial attorney, and has exclusively represented people in need, dedicating her practice to protecting injury victims and their families.
Gretchen has a passion for justice; she is an attorney who believes in fighting for you. Her heroes and inspirations are trial attorneys – people who stand up for others when they lack the resources to do so on their own. If you have been injured by another person's negligence, or if you have lost your loved one, an experienced lawyer can help. Law Offices of Gretchen Myers, P.C. is here to guide you through the complexities of a personal injury claim, prepare for a potential trial and obtain maximum compensation for your losses. Contact the firm to arrange your free initial consultation.
You may read more about her background and qualifications, or download a Vcard, by clicking "Gretchen Myers" below.
Owner/Trial Lawyer

St Louis, MO